The Texada Report is published quarterly by Texada Capital Corporation. The Texada Report analyzes the stock prices of publicly-traded marketing services companies, not only in relation to their revenues, earnings and book values, but also in relation to their growth, operating margins and leverage.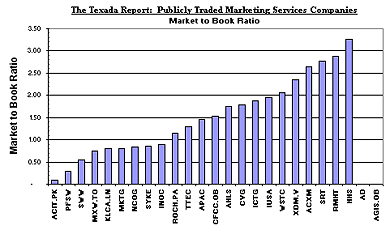 Publicly-traded companies provide the most readily available benchmarks for the valuation of closely-held companies in a given industry. To develop the corporate database for this analysis, Texada surveyed marketing services companies that trade on the North American and European stock exchanges. To be included, companies had to derive more than 50% of their revenues from marketing services: telemarketing direct mail, database management and fulfillment operations.
The primary purpose of The Texada Report is to examine the relative performance of marketing services companies and to compare valuation indicators. A snapshot taken of the industry on any cut-off date is useful in this regard although valuation indicators can change rapidly with conditions in the stock market. Valuations prepared by Texada on behalf of smaller, closely-held clients use the most current data available but, more importantly, take into account the unique characteristics of each company.